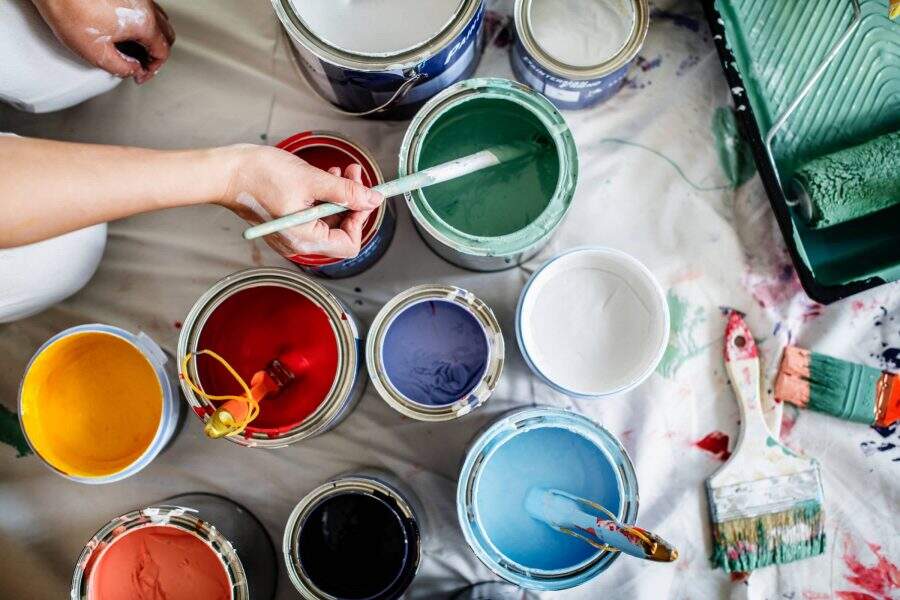 Paint is a liquid product, containing three main ingredients: pigments, binding material and thinner. Pigments provide colour. Binding material gives density and adhesiveness. The thinner keeps the paint liquid until use. Paint quality varies depending on the use, price and the branding of the paint.
Alpha Brush Painting uses top  quality  paint in Australian market. For example we use top quality Dulux paints. 
Reasons for painting works:
– Protection of surfaces from insects, rain, solar radiation and other climate factors
– Maintenance: Well-colored surfaces are easier to keep clean and safe
– Increase the visual attraction of the surface
 -Waterproofing
– Increase surface durability
The advantages of quality paint are the simplicity of application, the reasonable period of drying, the creation of a thin film without cracking, the formation of durable coating and safety for users.
Oil Paint 
Oily colours have white lead as a base and it will apply in three layers. Oily colours can achieve matte and shiny finishing layers, being durable at the same time. They are easy to apply and the painted surfaces are easy to clean. 
Oil paint is used on walls, doors, windows and metal structures. Oil colour is not suitable for wet conditions because it needs time to dry. You have to add pigments before applying oil colours. 
Enamel Paint
Enamel Paint can make using lead or zinc to the lacquering. The pigment is added to achieve a wide colour palette. Enamel colours make shiny coatings that are easy to clean. Enamel colours are waterproofing and chemical resistant. They provide good coverage and they are durable. 
A common use of enamel colours:
– Inner and outer walls
– Wooden coatings, doors and floors
– Windows
– Stairs
– Surfaces such as concrete, glass and metal.
The main limitation of enamel colour is slow drying.
Cement Color
The cement colour is available in the form of powder. The powder should be mixed with water in a certain proportion. The basic material is white or coloured cement. It can contain pigments and other additives. This colour is waterproof.  It is often used on rough inner and outer surfaces. Consider that the cement colour has a long drying time, usually 24 hours. Also, it must be in two layers to prevent moisture problems.
Bitumen Color
Bitumen Color is make using molten asphalt or tar, which gives it a distinctive black colour. It is waterproof. But it shouldn't be exposed to the sun, because it is getting worse. Bitumen colour, usually use in underwater ironworks, concrete foundations and wooden surfaces. In Addition, also adds resistance to rust when applied on metal surfaces.
Aluminium Colour
Mixing aluminium particles with oil lacquer to make the aluminium colour. It's resistant to corrosion, electricity and weather conditions. Aluminium colour uses metals and wood, gas containers, plumbing pipes and radiators.
Anti-rust
As the name suggests anti-rust colour is chemically resistant. It has been making of linen oil, zinc chrome and tiny sand. This kind of colour is black, permanent and accessible. It uses for metal surfaces and pipes.
As mentioned above, reasons for using paint in construction include visual attraction, surface durability, chemical and pest protection.  Adequate colour selection can reduce project costs while improving performance.
To view some of the above accomplished work by our professional team members check Alpha Brush Painting Gallery.